Six years ago, my then-fiancé and I were deep in the throes of DIY projects: making bundles of flowers from pages of old encyclopaedias we had rescued from a skip bin, soaking used glass bottles in water to remove their sticky labels and—this one I had to do without his help—sewing my own wedding dress.
We had both agreed we didn't want to outlay the big dollars ($50,000 was a conservative estimate by most Australian wedding websites) and preferred to spend on a dream house rather than a dream wedding. And so, we embarked on a mission to throw a fun and memorable party without the hefty price tag.
Doing the sums after our wedding—with a vow that included "I promise to never pay full price"—we learned we had only spent a fraction of the $50,000 average. We didn't get into debt, did not have big bills to pay and even had enough to go on an overseas honeymoon (again without going into debt).
Then I caught wind of Canberra-based blogger, "The Joyful Frugalista" (previously known as "Ms Frugal Ears") Serina Bird, who in 2018 spent a fraction of what I spent for her second wedding (less than $5000, to be precise). This woman knows her stuff, I thought, which she most certainly does.
The joyful frugalista
Serina recently released her first book, also called The Joyful Frugalista. Part-memoir, part-handbook, it contains a gamut of money-saving tips that have enabled Serina to transform from a recently-divorced mum-of-two struggling to pay the bills, to a self-made millionaire in a matter of a few years.
After a 17-year relationship with her first husband that included several years living in Taiwan, Serina filed for a Domestic Violence Order in the ACT Magistrates Court. Her children were aged two and four.
"I separated from my husband in 2014," she says. "It was scary because we had a big mortgage debt and there was a market downturn that affected our rental income coming in, and I had huge legal bills. It was a bit of a dodgy time to make that change and I really wondered if I could pull it off. But I knew I'm good with money, I can always cook a low-cost meal and my kids don't really need new toys. What they want is time with me. They like new toys, don't get me wrong, but when you really delve into it, what they really want more than stuff is the need to feel loved and be in a safe environment."
Serina and I are chatting on the phone about her new book, her story and our common love for frugality. She has an easy laugh and talking to her is like talking to a kindred spirit. She bemoans how unlike me, she was stopped from making Japanese origami from old books for her wedding because "my Neil didn't like it", and I tell her how I've always wanted to make my own laundry powder and can't wait to try her recipe in the book. ("It's really easy," she assures me.)
How to save money
While Serina says she has always been frugal, it wasn't until she separated from her first husband that she adopted her current lifestyle. "It came into fruition out of necessity," she says. "I had to do it if I was going to get through or throw my hands up and say, 'I can't cope, I'll never find the money', and let the banks repossess everything."
At the same time, Serina acknowledges her situation is different from other domestic violence survivors, in that she had "a solid public service job and assets. What I didn't have was cashflow."
In the video below, watch Serina share her secret to becoming a millionaire.
Even when things got easier, Serina realised her new lifestyle suited her nicely. "I like the values. I like that for instance, by being a part of my Buy Nothing Project, I could meet people in the community as a single mother. It was good to see things I no longer needed used by other people and it was nice to get things that were loved from other people.
"I don't feel comfortable with excessive consumption anyway. [Living frugally] had good strong moral principles, good environmental awareness and sound management of money."
Unfortunately, frugal living often conjures up negative connotations of people watching every cent and missing out on life. Serina even says it herself in her book, reminding readers that "every dollar counts" and telling them about "the power of little savings". The secret, Serina says, lies in balance.
"Saving is really important for your long-term financial wellbeing and there is a lot of satisfaction and joy that comes from knowing that you're being frugal and not in debt," she says. "But if you become the sort of person who just saves and doesn't do things, then you are out of balance."
How to enjoy life cheaply
In a society where living comfortably can often come with a high price tag—restaurant meals, using the heater at home instead of putting on a jumper, massage sessions—Serina strongly believes it is possible to continue to enjoy life and even pamper yourself while living a frugal lifestyle.
She credits the Groupon website for her most recent treat—a "really good deal for a massage"—and reminisces of time spent with a group of friends who call themselves the "Frugalista Sistas".
"We did a home day spa and it was so much fun. You can make nice facial masks with cucumber skins and oatmeal, and do nice massages with olive oil and a bit of salt [a recipe she shares in her book]. There are so many ways you can pamper yourself that are low-cost and good for the environment, and where you can connect with other people without spending a lot of money."
Speaking with Serina, I feel empowered and validated to continue living my own frugal lifestyle, one that I've often been loath to admit to others for fear of the associated stigmas, but one she has obviously embraced. This is because cheapness and generosity, Serina reminds me, doesn't always have to be related to money.
"My family, as family often does, have for years been making fun of me and my frugal ways, even though they're pretty frugal themselves," Serina tells me by way of encouragement. "But even now, my dad and sister have told me they find that I'm surprisingly generous. It's not because I spend a lot of money, but because I give away a lot of things and I try to make time available where possible for friends.
"These are the sort of things that mean more to people than stuff. Generosity comes from the heart and there are many ways that you can be generous, and not everything has a dollar price attached to it. At the same time, I do donate to causes I believe in as well. They're not huge amounts, but within my means."
During my short conversation with Serina, learning about her story, I get this sense that her generosity most certainly comes from the heart. Despite her rough history with her ex-husband, she has today deliberately chosen to live in the same suburb as him so that he can play an active role in their children's lives.
I point out to her that she speaks of her story without any hint of anger and she says, "It's really down to love—love for myself and for other people. That is so much more powerful than buying stuff. Love at the centre makes it easier to make this decision. I could be still caught up with hate and vengeance but who does it benefit? When Jesus talks about forgiveness, it's vital because you can't move on until you forgive.
"I struggled for a long time getting over the feelings of hurt because I thought forgiveness was an important Christian doctrine. I was beating myself [up] over the fact that I was so angry, but I realised that I'm not God and I'm not perfect. I thought I should be kind to myself and acknowledge that I'm still feeling hurt and pain, but that I'm not going to consciously do vengeful things. I was just going to sit and wait until I was ready, and when I did, [the anger] just dissolved."
In her book, Serina wrote, "The underlying themes in my philosophy are self-worth, abundance and gratitude. It's not about racing to have a certain net worth by a certain date in competition with others. Rather, it's about balancing appreciation for what I have with creating the future that I want to live. It is less about 'having it all' and more about thinking mindfully about what I have, and what I want to have. It is about recognising the abundance around me and feeling empowered to make the right choices with money."
As she herself admits, Serina's life philosophy echoes the Bible's promise to give us "life and have it to the full". It's an attitude that has guided her through life as a domestic violence survivor, single mother and, today, a financially-secure and happily married wife with much to smile about.
Start here . . .
The most important aspect someone should concentrate on to save money, according to Serina, author of The Joyful Frugalista:
Monitor what you spend your money on, without guilt. Just write down where your money goes because that can be very enlightening to start with—just becoming aware. For a lot of people, there's this sense that money just slips through their fingers and they don't know where and so that's an important starting point. It's not about the big things. You are generally aware of your mortgage cost and how much your car costs, but you may not be aware of the cost of driving your car. If you're feeling that your money is a little bit out of control, just monitor what is happening and then do the research.
---
If you or someone you know needs help, contact the domestic violence support
1800 737 732 Australia
0800 456 450 New Zealand
How helpful was this article?
Click on a star to rate it!
5 / 5. 3
Be the first to rate this post!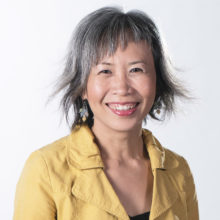 Melody Tan
Melody is project manager of Mums At The Table. She lives in Sydney with her husband and their primary-school-aged son.
Related posts
Subscribe
Receive personalised articles from experts and wellness inspiration weekly!