These books will help your child feel confident, develop a positive sense of who they are and feel like a valued and respected part of the family and community.
Identity and belonging are foundational to helping children feel positive about themselves. Not only that, it'll help them to be more open-minded to people different from themselves. This in turn will help them to be emotionally strong, self-assured, and able to deal with challenges and difficulties.
At the same time, the benefits of reading are hugely impactful in many different areas of your child's life, and not just in the classroom. Reading builds your child's imagination, increases their vocabulary and helps them develop critical social and communication skills that will prepare them well for later in life.
Reading helps your child build wider knowledge about the world around them, exposing them to different cultures, perspectives and ideas from the comfort of their own home.
Books that teach kids about identity and belonging
Belonging is about safety, home and finding your place in the world. It is about acceptance of yourself and others, as well as lending a helping hand when you see others are struggling to find their place.
These are our favourite books that fit the theme of "belonging". These books feature characters and authors from a range of backgrounds, who each face different challenges and situations regarding race or social status. The stories span from a little refugee girl who knew no English, a penguin lost but also found, to a boy with a rare cancer—causing a physical deformity—who found his place despite the bullying and many challenges he encountered.
1. Ten Little Fingers and Ten Little Toes
Mem Fox & Helen Oxenbury
Viking
Suitable for ages 0–4
From two of the most gifted picture book creators of our time, here is a celebration of baby fingers, baby toes and the joy they—and the babies they belong to—bring to everyone, everywhere, all over the world!
2. If There Never Was a You
Amanda Rowe
Familius
Suitable for ages 2–4
Filled with heartwarming messages of love, belonging and togetherness, If There Never Was a You gently reassures children that the place they hold in their parents' hearts can never be filled with anything else.
3. Mutt Dog
Stephen Michael King
Scholastic Australia
Suitable for ages 3–7
With humorous text and watercolour illustrations, this endearing picture book tells the story of a lonely dog who has to make it on his own . . . until he finds the perfect home.
4. Lost and Found
Oliver Jeffers
HarperCollins
Suitable for ages 3–7
What is a boy to do when a lost penguin shows up at his door? Find out where it came from, of course, and return it.
5. Perdu
Richard Jones
Simon & Schuster Australia
Suitable for ages 3–7
The moving, beautifully illustrated story of a little lost dog and his search for a place to call home.
Click here for more book reviews and recommendations
6. My Two Blankets
Irena Kobald & Freya Blackwood
Little Hare Books
Suitable for ages 3–7
This beautiful tale about friendship and culture, paired with award-winning Freya Blackwood's stunning illustrations, makes for the most exquisite book.
7. The Proudest Blue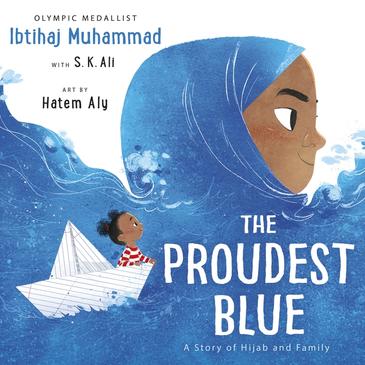 Ibtihaj Muhammad
Walker Books
Suitable for ages 5 and above
An important and uplifting family story of being proud of who you are from Olympic medallist Ibtihaj Muhammad.
8. My Place
Nadia Wheatley & Donna Rawlins
Walker Books
Suitable for ages 8 and above
This classic Australian picture book depicts the history of one particular piece of land in Sydney from 1788 to 1988 through the stories of the various children who have lived there. It aims to teach the reader about the history of Australia, about families, settlers, multiculturalism and the traditional owners of the land.
9. Amina's Voice
Hena Khan
Simon & Schuster Australia
Suitable for ages 8–12
Amina's Voice brings to life the joys and challenges of a young Pakistani-American and highlights the many ways in which one girl's voice can help bring a diverse community together to love and support each other.
10. Wink
Rob Harrell
HarperCollins
Suitable for ages 10 and above
A heartbreaking and hilarious story of survival, and of finding the music, magic and laughter in all of life's weirdness.
---
This post includes affiliates and/or paid inclusions.
How helpful was this article?
Click on a star to rate it!
5 / 5. 1
Be the first to rate this post!
Related posts
Subscribe
Receive personalised articles from experts and wellness inspiration weekly!