Our mums try, test and review the new Double rugs. Will these machine-washable rugs withstand the rigours of family living?
If nothing seems to remain clean in your home since the kids came along, you need to know about Double. More specifically, you need to know about their spill-proof, machine-washable rugs.
Launched in late 2022, the Australian label's tagline "No worries living" says it all. Double credit themselves as "Australia's first machine washable rug", which possibly makes them the answer to the prayers of parents everywhere.
Double rugs come apart in two layers (hence its name). There is a non-slip base for grip and stability, and a removable top layer that you throw in the wash. That's not all. Double rugs come with some serious environmentally friendly cred too.
The top layers of all Double rugs are made from a 100 per cent recycled polyester. The base yoga mat-like layer is made from 100 per cent sustainably sourced thermoplastic rubber and recycled polyester. Not only that, the plastic sleeves the rugs come in are also recycled.
The Double team generously offered Mums At The Table the opportunity to trial and review their products. Here's what our mums think when it comes to the rug's design, functionality, spill- and pet-proof claims, and machine washability.
Our reviewers
Brooke only recently returned to part-time work after being on maternity leave. She has two young boys, a one-year-old and a three-year-old. Brooke reviewed the 200x300cm Quilt Neutral New Jute Rug.
Elise is a homeschooling mum of a six-year-old girl. She also has a 14-month-old son. During her breaks, Elise also works work part-time. She reviewed the fluffy 200x300cm Willow Cream Highland Rug
Melody (yours truly) works full-time and has a seven-year-old son who is finally grasping the concept of keeping things clean and tidy—some of the time. I reviewed the 90x150cm View Watermelon Chenille Rug.
Double rug design
Brooke: "I've always wanted to add a rug to our living space but with two young kids and a dog, a rug has always been too risky. This rug has been great! We love how the rug has added warmth to our space. The design on the rug helps to hide smaller spills which are fairly common in our house. The pattern has also become a bit of a talking point from visitors and we often get a remark about how brave we are having a rug in the space, particularly a lighter coloured rug."
Elise: "We have lovely floorboards but in winter, it's not so attractive to sit and play with my kids on the floor. My husband did not want a long pile rug, as he thought crud would get stuck in it, it would forever need cleaning and eventually be stained. However, I thought the Willow Cream Highland Rug was too gorgeous to go past and went with it!
"Everyone who has come over since setting it up have commented on how lovely it looks. The pattern of the pile is very nice and neutral. I also really love the size and shape for the space. We especially have people commenting on how lovely it feels! It's very comfortable to lay, sit, play on—for the kids but also for adults! It's very soft, warm and is much warmer than sitting on the floorboards. I have had my toddler fall asleep on it and I also find my kids stroking the 'fur' like it's a pet, just enjoying the comforting feel, relaxing into it."
Melody: "I fell in love with the bright colours and patterns of my rug design on my computer screen and was super pleased it was every bit as bright and colourful in real life. Being a chenille rug, I was expecting it to be a little stiff and slightly rough. I was pleasantly surprised just how soft and smooth it felt. It makes it a really nice spot to sit on and I have to stop myself from petting the rug."
Setting up
Brooke: "This rug was quite easy to set up. I would recommend rolling the rug though as the velcro is very sticky. We found that rolling the rug prior to putting on the base mat meant we could easily press and smooth out the rug, leaving us with a lovely smooth surface. The base mat also meant the mat didn't move around much once positioned. We did trial using just the rug topper but it slipped on the floor and moved around underfoot so we definitely noticed the difference with the base rug. I found the rug to be quite soft and spongey under my feet which was a pleasant change from the hard and cold vinyl floor tiles."
Elise: "When I picked it up from the post office, I was amazed at how compact it was and wondered if I'd ordered the right size. However, I soon realised it was definitely the big size. Set-up was pretty easy. I first rolled out the backing and found it stays put really well on the floorboards. The big size has the backing in two sections which makes it important to line them up well. Otherwise, there is either a gap or a ridge. Putting the top on and smoothing it out was a little more challenging as it sticks so well to the backing. I worked at it for a while with the kids and couldn't get the creases out so gave up leaving a few, but it seemed to settle the creases out all by itself in a week or two."
Melody: "I didn't expect the rug (and its under layer) to fit in such a small and lightweight box. Laying out the under layer on my carpeted floor was a bit of a pain because it was so sticky. I had a tight and specific spot for my rug and so it was a little challenging trying to make sure everything lined up just right, without bumps or ridges. On the upside, I understood what made the rug slip-proof. The under layer was also slightly smaller than the actual rug, which I didn't realise until I placed the top layer on. This means the under layer wasn't properly centred under the top layer, but with all the difficulty of sticking and unsticking the under layer to get it to where I wanted it to be, I left it be."
Functionality
Brooke: "We wish we had the rug earlier in the cold season as it's also helped to maintain warmth in the space. We have vinyl floor tiles laid directly over a concrete slab so it can get quite cold. We didn't experience any shedding on the mat. We have one corner that does get a lot of traffic that, if not positioned on the base mat correctly, becomes a bit slippery when walked on, however, we repositioned the mat and the slipperiness went away. The rug has been easy to vacuum and is still quite soft and spongey underfoot.
"I really like that I am not stressed about food and liquids accidentally being spilled on this rug. Whenever we visit my parents' place, I am constantly stressed about food on the rug and we usually pop a picnic blanket under the table and over the rug. I like being comfortable in my home and my kids aren't stressed or worried about accidents which makes our space calm and settled, at least in terms of accidents. I really love that it's added depth and warmth to our living space and it has helped to create clear zones in what is an open plan living area."
Elise: "The rug is in our lounge room, which is also a high traffic play space for two kids. At first we found it a little slippery to walk on in socks (which the kids found really fun) but it seemed to settle and is no more slippery than any other surface now. There seemed to be a little bit of shedding on our clothes and we did have a friend come over and sneeze so perhaps there was a little in the air, but there was definitely no offensive smells or excessive shedding of the pile. My kids sometimes would pull at the pile and a little comes out but otherwise it seems quite robust to withstand abuse!
Melody: "Thankfully, my son is at an age now where carpets and rugs don't get too dirty. However, for the review, I tried to smoosh Playdough into the rug, which was the source of much headaches when my son was younger. Miraculously, no matter how hard I tried, I couldn't get any amount of Playdough to stay on the rug. I also tried drawing on the rug with a Sharpie and unfortunately, that seemed to be permanent."
Day-to-day cleaning
Brooke: "With a one-year-old, food often ends up on the floor, but the rug is easy to spot clean. I've found if I give the rug a quick clean, I can avoid having to wash the rug. The spills (milk, pasta sauce, cheese sauce etc) have all come off the rug quite easily with a spot clean and then I spray the rug with a product we use to break down enzymes which means we don't have to wash due to smells. The rug has held up well to the use of this product.
"Our robovac also happily navigates the rug, meaning it gets regularly vacuumed (at least two times a day) and has held up well. I have experienced when rugs don't respond well to a robovac and it becomes a bit of a hindrance having to separately vacuum the mat. Because of the low pile of the jute style rug, the robovac is quite effective at cleaning up any debris off the mat.
Our dog also decided to christen the rug by weeing in the corner when it was raining (he's not a fan of the wet). I was able to pat dry the rug, lift and pat dry the floor, as well as in between the rug and base. I also sprayed again with an enzyme spray until I was able to wash the rug."
Elise: "I found that it didn't lift up off the backing or the floor when I was vacuuming it which was so great."
Melody: "I often find vacuuming rugs tricky—one foot stepping down on a corner to prevent the vacuum from lifting the rug up. However, the stickiness of the under layer came to its own in this instance as vacuuming was a breeze. Nothing lifted up and the rug felt so nice and soft after."
Machine washing
Brooke: "Washing the rug was fairly straightforward. Again, rolling the rug to remove it from the sticky base was the easiest way to get the rug off the floor. I could fit the rug into my 7.5kg washing machine and used my standard detergent. However, the rug only just fit so there was no proper agitation. I would recommend pre-treating any residual staining prior to putting in the machine as agitation is what helps to remove stains.
"I think it would be helpful to provide washing machine size limits for the size of the rug. A large rug doesn't comfortably fit in a 7.5kg front loader washing machine and may suit a 9kg machine better, something for potential buyers to consider."
Elise: "I really wasn't sure once I saw how big the rug was whether it would actually fit in my regular washing machine. I have a top loader 7.5kg washing machine and I put it in on a cold gentle hand wash cycle with the pile facing outwards. The machine did bounce around a little more and loudly at times in the spin cycle but it handled it."
Melody: "The top layer of the rug is so soft and light, it was easy to fit into my 7.5kg front loading washing machine. There was even space for other bath mats. I initially used the 'handwash' mode of the machine but didn't think it was doing much washing per se and so switched to my usual 'daily quick' mode instead. The rug withstood the less gentle treatment, although there was a fair bit of bounce when the machine first started spinning. I gave the under layer a quick vacuum while the rug was in the wash. There was a surprising amount of little pieces of dirt on it. I found it easier to vacuum with the brush attachment.
While the rug did wash clean, the marks I drew on the rug using the Sharpie did not wash off. It seemed to look a little lighter, so perhaps it'll eventually come off with more washes."
Drying
Brooke: "The rug dries quickly and without too much effort. I found it dried quicker on the line than in the dryer. There was not quite enough space for the rug to dry well in my 8.5kg heat pump dryer and when the three-hour cycle finished, the rug was still damp. I hung the rug on the washing line which actually worked really well and it dried quite quickly. I rolled the rug off the washing line so it was ready to be re-installed easily into the living space."
Elise: "There was still quite a bit of water to drip out of the rug afterwards as I had put it in the machine on slow spin. It drip dried hanging on my verandah and dried in probably comparable time to my towels which surprised me a lot. It washed well and still looks and feels just as beautiful after the wash."
Melody: "The machine spun the rug dry at the slower 800rpm (I usually use 1600rpm) but even then, it wasn't too heavy or dripping wet to lift up onto the line. The rug took as much time to dry in the sun as my other bath mats, which was a definite plus. Besides my unfortunate test with the Sharpie, the rug looks and feels as good as new."
How helpful was this article?
Click on a star to rate it!
0 / 5. 0
Be the first to rate this post!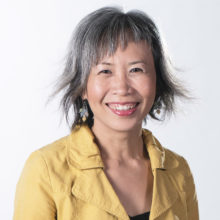 Melody Tan
Melody is project manager of Mums At The Table. She lives in Sydney with her husband and their primary-school-aged son.
Related posts
Subscribe
Receive personalised articles from experts and wellness inspiration weekly!