When she was born at Box Hill Hospital, Melbourne, Heather Hawkins already had travel and adventure in her bones. Her family immigrated to Canada when she was just three, even though they had no relatives there nor knew anyone.

As a 21-year-old fresh nursing graduate, Heather waved goodbye to her family, who were now back living in Melbourne, and drove off to new adventures in a campervan. She found them in Alice Springs, where after working as a nurse for a year, she became a governess for a young boy at Curtin Springs Station, a 400,000-hectare cattle station in the Australian Outback.
After her stint at Curtin Springs, while living in Sydney, Heather met a young man named Doug. It didn't take long for the life of travel and adventure to be replaced by an equally satisfying but completely different one: marriage and raising two young children.
When I ask Heather if she felt she lost a bit of herself after she had children, she laughs. "Very much so," she replies. "Talking with other mums, I've learned it's very much the case for most of us. We put our family first, looking after their needs, forgoing things, sacrificing for them. That's all part of life. It's a season."
The season lasted until, at the age of 41, she discovered she couldn't fit into her favourite red skirt one morning. "I thought, You know what, this is not right. It was different to middle-aged spread. My tummy was swelling more than just a normal period and I had a little bit of discomfort as well. I was doing nothing different and so I thought it was time to have a chat with the GP."
Heather was diagnosed with stage one ovarian cancer and nine days later, underwent surgery to remove an 18-cm tumour and perform a complete hysterectomy.
"[My faith in God was] strengthened, going through an experience like that," she says. "You realise how precious life is, you really dwell on the reasons and purpose of life and you come out the other side filled with hope. Then there is the power of prayer and the comfort it brought. The love and care I received from my family and friends at church really helped me through that difficult few years from being diagnosed to recovering."
Heather's ovarian cancer journey also unexpectedly reignited her adventurous spirit. "As I was recovering from surgery, I thought I want to live life to the full now. I really feel that I've got this second chance in life and I also wanted to do it with family and friends," she says.
At 44, in remission and full of spirit, Heather completed her Surf Lifesaving Bronze Medal and three years later, signed up for a four-kilometre Mother's Day fun run with her two children. "Just because I can," she says with a smile. This coming from a woman who prior to being diagnosed, admitted the only exercise she really did were shallow ocean swims, walks at the beach or chasing after toddlers.
Today, Heather has 18 marathons under her belt, including taking first place in the Women's Division of the 2015 North Pole Marathon and becoming the first Australian woman to be a member of the Intercontinental Marathon Club when she completed the World Marathon Challenge.
Running on a floating ice floe with only 44 other competitors on the geographic North Pole in -41 degree temperatures and running seven marathons in seven days on seven continents wasn't really on Heather's radar when she signed up for her first long-distance run some five years ago. In fact, she first started training wearing a "baggy old pair of gardening shorts" and "a pair of ancient, stiff, white runners".
"I just imagined I would be doing normal road marathons [when I first started running], events in Melbourne or Sydney and running with large groups of people," she admits. "I never imagined doing something so extreme and so far away from home."
Running the North Pole, however, Heather says, is probably one of the most amazing moments of her life. Her phone battery frozen, she was left without music and spent the next six hours of running accompanied only by her own thoughts.
"It became a far more profound race as I thought a lot more about life since I couldn't just run and sing," she says. "I had just turned 50, doing something that perhaps wasn't acting my age, and it became a celebration of surviving cancer and living life to the full."
Plan things you want to do in life for when the children are older or more independent.
Her early life, ovarian cancer journey and inspiring story of transformation to marathon running can all be found in her memoir, Adventurous Spirit. The book is interesting not only because it details all her amazing journeys around the world but it's also filled with much hope and encouragement, especially for those who feel somewhat stuck in a rut or are searching for something more. Here is the story of someone who not only survives ovarian cancer, but is staring down the disease every day with incredible feats.
Heather's book spurs people on to do something more than the everyday. The definition of an adventurous spirit, Heather says, is "doing anything that's just beyond the norm of your normal day. It might be taking up a new hobby, going for an ocean swim a bit further, speaking in front of a group, going on a trek . . . anything that takes you beyond your normal comfort zone and where you come away going, 'You know what, I think I've grown from that experience.'
"By doing those things, you learn to be a little braver and you learn to take another step and try something a little further, harder and more challenging."
When I ask Heather why it's important to have that adventurous spirit, she replies, "It means you're not just happy drifting on in life. If you're looking for purpose, it gives you that little bit more purpose. You're searching, not content with who you are. You want to grow, to go off and see the world and share that with other people."
Heather is quick to point out that nurturing an adventurous spirit isn't simply about travel, because as she recognises, it is expensive and can be challenging for those with young children or health issues. She suggests linking up with a neighbourhood group or getting involved in something you normally wouldn't, such as joining the choir of your local church.
For those with young children, Heather has a few suggestions as well. "Do things with your children, even if they may be young babies," she says. "Go to the park, get out there in the great outdoors, link up with other mums, talk about life and share. Plan times to get out together, such as a day trip."
Most importantly, however, Heather wants every mother with young children to remember themselves—who they were before they had children. "Remember there is real purpose in life and to nurture that from within," she advises. "Remember the dreams you had as a young adult, always keep them in sight, thinking you can achieve them when your children get older. Plan things that you want to do in life for when the children are older or more independent.
"Look after yourself, have great nutrition, try to get as much sleep as you can, get that exercise, keep fit, find time to read a book or some of a book. If you stay well, then age has no bounds. People tell me I'm 52 now and ask if I'm thinking of slowing down. But I have no reason to slow down just yet. I listen to my body and I feel well, I feel motivated to get out there and keep on living life to the full."
For all the spirit and enthusiasm Heather appears to possess about life, she admits to feeling weary and discouraged at times. In those moments, she prays to God and takes herself back to other times when she similarly felt that way to remind herself there's always a way through and things aren't always bleak.
"I think about the future and aim for a new goal, big or small. I remind myself that we are all loved and life is precious. Family means so much. As a mum, our children will always look up to us and love us no matter what age they are, or we are," she says.
For now, Heather's future consists of the Volcano Marathon in Chile—one of the world's highest desert marathons—on the sixteenth of this month. She has also just become an ambassador for the Indigenous Marathon Project, which provides opportunities for Indigenous men and women to run the New York Marathon. Next year, she has signed up for what she hints will be a multi-stage ultramarathon, but won't be releasing details about it until January.
One always has the impression that to be a marathon runner requires years of training that should have commenced in one's youth. But Heather has proven that theory wrong. Her first run, the four-kilometre Mother's Day run was "my real light bulb moment. I thought that if I can run four kilometres, I can probably do a half-marathon, and if I can do a half-marathon, I'll give a marathon a shot. And so that's how my journey progressed."
Heather is proof that if you put your heart into something initially thought unattainable—such as running a marathon—and take one step at a time, you surprise yourself and find that you're ready to take the next step and go that little bit further.
How helpful was this article?
Click on a star to rate it!
5 / 5. 1
Be the first to rate this post!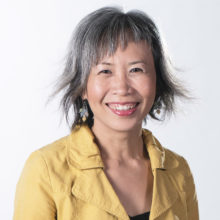 Melody Tan
Melody is project manager of Mums At The Table. She lives in Sydney with her husband and their primary-school-aged son.
Related posts
Subscribe
Receive personalised articles from experts and wellness inspiration weekly!