Award-winning illustrator Polly Dunbar's new book, Hello, Mum, will have you nodding, tearing up and feeling seen.

It was on Mother's Day when I suggested reading Hello, Mum, together with my four-year-old son.
I was still in bed (my Mother's Day gift) when my son crawled under the covers to join me. Daddy was in the shower, so while the boys had done a pretty good job of leaving me alone in the morning, with no other available playmate, I was it.
Not really feeling energetic enough for a game of pretend or wrestle, I picked up Polly Dunbar's latest book off my bedside table and suggested to my son we read it together. I didn't think he'd be too interested, given the topic—the promo blurb calls it a "visual diary of the magical highs and absurd lows that many parents will recognise"—but it was the easiest quiet activity I could think of that didn't require me getting out of bed.
Being done in comic book-style, I knew there were more illustrations than there were words, so we were in familiar picture book territory. However, these were adult, no, mum, topics, and so his reaction surprised me.
A book that captures the precious early memories
Before I go on, I have a confession to make: I am a lazy mum.
You know those mums who keep a baby book, who document everything from pregnancy to birth, who treasure every single keepsake in a bespoke box? That's not me.
I'm not only a lazy mum, I'm also a rather unsentimental one.
Sure, I have kept some of my son's baby clothes and am fairly certain I have safely kept the little plastic clip that was fastened to his umbilical cord . . . somewhere.
But truth be told, my husband is better when it comes to "keeping" memories—the photos, the mementos. I'd like to think I'm too busy creating memories, too focused on living in the moment, but really, I'm just a lazy mum.
Which is a real shame because as earth-shattering as it was to become a mum, as life-changing as it was to be responsible for a small human, as mind-blowing as it was to have your world expand and yet narrow in its focus all at the same time, four years on and those early memories of my son as a baby are fast fading.
So I loved Hello, Mum, for all its wonderful, bittersweet and completely relatable drawings of those early days. The days when you're sleep deprived, the days when you're frustrated and the days when you're so filled with love, you wonder why you haven't exploded.
Best of all, because I was reading it with my son, I could add my own narration and stories to the cartoon drawings, sharing what life was like for me with him in those early days. The cute drawings held my son's attention and my stories captured his imagination. My son was rapt. And I really enjoyed all the illustrations because it felt like Polly was drawing me and my life as a mum.
So what if I don't have that many physical memories to remind me of those early days. Hello, Mum has captured those precious, beautiful and sometimes hilarious moments just right.
A book for a mum . . . and child
My son and I finished reading Hello, Mum in one day. We read half of it that morning, and finished the second half in the evening. I don't remember why, but we were back in my bed that evening when my son actually requested, of his own accord, that I read the book to him.
Which isn't really surprising because I could tell he really enjoyed reading the book in the morning. There were pages which he lingered on and others where he would ask I go back to. There were some which he literally laughed out loud at and there was even one that he insisted I showed his dad because it was "so funny".
Most amazingly, with my son currently learning how to read, I think it taught him to recognise the word mum. Probably because it featured in several different pages, depicting a child desperate to get his mum's attention for a variety of reasons—or none at all (the story of every mum's life. Every. Single. Day.).
Hello, Mum is truly a wonderful book and I thoroughly enjoyed the experience of going through the pages with my boy. I felt like it somehow brought us closer and I'd like to believe it actually helped my son understand me better.
It was a lovely and easy book to read—with only a few words to a page, but the illustrations will touch a mother's heart to the core.
---
Hello, Mum, by Polly Dunbar, is out now. (Allen & Unwin, $24.99)
How helpful was this article?
Click on a star to rate it!
5 / 5. 1
Be the first to rate this post!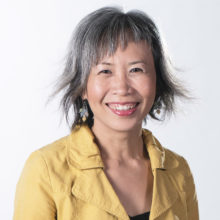 Melody Tan
Melody is project manager of Mums At The Table. She lives in Sydney with her husband and their primary-school-aged son.
Related posts
Subscribe
Receive personalised articles from experts and wellness inspiration weekly!