Just 16 years of age, she worked three jobs to support both herself and her son, and in order to finish high school, studied during any free time she managed to scrape together.
She wasn't alone in her journey, but she might as well have been—her partner was "abusive in every way".
For her son's sake, she left him. An anonymous benefactor saw her potential and offered to pay her son's childcare costs so she could focus on her studies to become a registered nurse. Her life was back on track. Then she met someone.
He was charming at first, so it came as a surprise when he started threatening to kill her and her son. As the intimidation intensified, she knew the only way to keep her and her son safe was to leave.
"It makes me sad that my son does not have a dad," says Rebecca Mckeown, now in her late thirties. "I feel like I've failed him in that respect."
Fathers. They're traditionally seen as the breadwinner of the family, the one who teaches their sons how to throw a ball, lovingly dotes on their daughters and fixes the leaky tap at home.
Struggles single mothers face
Studies have shown the vital role fathers play in their children's lives in a psychological sense. The American Academy of Pediatrics says, "When fathers play a visible and nurturing role in their children's lives, the children have better emotional and social outcomes and are more likely to have stronger coping and adaptation skills, be better equipped to solve problems, stay in school longer, have longer-lasting relationships and have a higher work productivity."
Not only that, researchers from Princeton University in New Jersey, USA, have found that absent fathers can cause children to have shorter caps on the ends of their chromosomes. What this means is an increased risk of a variety of chronic health problems when they become adults, including heart disease and cancer.
On a more practical sense, parenting is just doubly difficult when you don't have a reliable partner to support you. "There is no down time. You have to be there and ready to go at all times," says Paulette McCormack. Originally from the Gold Coast, she was living in the United Kingdom with her partner when he decided to end their relationship, when their two daughters were five months and two-and-a-half years old.
"Having no-one around meant I needed to rely on childcare arrangements to look after my daughters so that I could go and study at night," she says. "This all came at a cost so we had to miss out in other areas, like days out and more than just basic food."
Then there is the stigma associated with single parenthood, which puts extra pressure on mums who are doing it alone. It's something Julia Hasche knows well, after she chose to become a single mother four years ago when her daughter was just a few months old, to protect her from the abusive environment her father was creating.
"I felt a lot of shame. I thought that people would instantly think that I was stupid, uneducated and a drain on the economy. I thought they would think that I should never have had a child, that my daughter would grow up disadvantaged, and that I was scraping by and barely keeping it together."
When he was three, Dan Brunt's parents divorced. Even though they had dual custody, Dan's father was mostly absent, leaving his mother with the sole responsibility of raising Dan. The lack of an appropriate male role model proved a challenge to Dan, who wished his father was more present in his life.
"If I saw my father more and received more affirmation, I think I in turn would be able to do that to those I love in my own life," says Dan. Instead, he learned from "fathers" portrayed on television and in movies, and "there weren't many uplifting and inspirational models of manhood in the media".
Paulette has also noticed how the lack of a father figure has affected her daughters' lives. "I know that my girls have missed having a father figure around. I used to find if we went to parties, they would be drawn to the fathers in the group more so than the mothers. It does worry me that they will have a fear, if you would call it that, towards men and relationships." Now, even as an adult, Dan acknowledges he still struggles with connecting with men, "especially those who are more macho and domineering".
How single mums have survived—and thrived
The going is difficult and the odds are large when mums have to step into the role of dads as well. However, rather than crumble under the pressure or succumb to societal judgement, single mothers around the world have found the inner strength that miraculously blossoms (and then some) when it comes to ensuring their children thrive.
"I became a dab hand at chopping wood for the fire, organising trades if things needed doing on the house and for the small jobs, I learned to do them myself," says Paulette. "I bought a toolbox, screwdrivers, a lawn mower and trimmer, and did both the inside and outside [of the house] jobs. I actually felt empowered (after the hurt subsided) that I could do it all. It became my driver to be able to do everything."
According to Nina Farr, who works with women who have become single parents due to domestic abuse, it can also be a matter of perspective. "Far too often, single-parent families are talked about from a deficit model—what they don't have, what they have to work twice as hard to provide—and this becomes a self-fulfilling prophecy. Let's shift the conversation and celebrate the unique and wonderful aspects of parenting alone. The intimacy, the freedom, the independence, the joy."
Just because the father of the child is no longer around doesn't mean they need to grow up without an adequate male role model either. Women such as Julia and Rebecca have fathers, brothers or close male friends who have all stepped into the role, especially important as their partners had been abusive and terrible examples of what relationships should be. For Dan, there was also God, who was "always there for me when I needed Him. But it was only when [my biological father passed away] that I began to see God as a Father".
To overcome the feeling of shame, Julia started surrounding herself with "other successful, educated and smart single mothers. I also did a lot of personal development work".
While extremely tough, with pure determination and grit, single mums can be both fathers and mothers to their children and succeed in life. Today, Rebecca not only works as a nurse, she is the co-founder of Single Parent Network, which provides resources to help single parents. Paulette is back living on the Gold Coast, and is director for human resources company, Fresh HR Insights, while Julia is a blogger, author and mentor for single parents.
As for the children, the bond between mother and child is probably doubly strong. "I think Mum is the strongest person I know and she inspires me," says Dan, who is now a pastor, introducing people to the heavenly Father. "To be able to predominantly raise me, love me, discipline me, all from her own tumultuous upbringing, I have no words to express how thankful I am."
How helpful was this article?
Click on a star to rate it!
0 / 5. 0
Be the first to rate this post!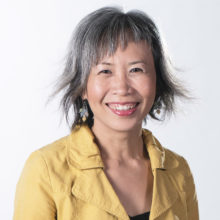 Melody Tan
Melody is project manager of Mums At The Table. She lives in Sydney with her husband and their primary-school-aged son.
Related posts
Subscribe
Receive personalised articles from experts and wellness inspiration weekly!