Call me boring, but when it comes to gifts, I prefer practical ones. Don't get me wrong, I appreciate fresh flowers and scented candles just like any other woman, but get me something that I can actually use? I'll be beaming like the star at the top of the Christmas tree.
With that line of thought, the following products may not seem like your traditional kind of Christmas gifts, but if you're anything like me, they are actually the most meaningful type of present you can give anyone. What are they?
Dermal Therapy's new mint and berry lip balms
Scrub Daddy's range of cleaning sponges
GreenPan's non-stick cookware
How did they perform for an ordinary mum, living in an ordinary world? (In the spirit of full disclosure, these three products are being reviewed courtesy of the suppliers.)
1. Dermal Therapy's new mint and berry lip balms
Dermal Therapy claims to be the best selling lip balm brand in Australian pharmacies, although truth be told, I've never heard of the brand before they appeared on my desk. Suffering from dry lips myself (if I forget to protect my lips, they'll be dry and chapped by the end of the day), I liked the promise that these lip balms are "ultra-moisturising", with "concentrated formulas specially designed to hydrate and soften severely dry lips, keeping them smooth and healthy looking".
I tested the two recently released new "flavours", Berry and Mint. You could smell the respective scents from when you unscrew the cap, and it continues to linger after application on your lips.
Perhaps what surprised me the most was after a few seconds, my lips started feeling minty fresh (like as if I had put toothpaste on them), even when using the berry lip balm. That prompted me to take a good look at the ingredients list, which included menthol. Probably not the best surprise for someone who even shies away from eating mint ice-cream.
Despite the unexpected revelation, the lip balms did deliver on what they promised. My lips were already rather chapped by the time I tried the lip balm and they felt moisturised almost instantaneously. I could feel a very thin film of balm—which was mildly greasy—on my lips after application, which I can imagine could annoy some, but it is also a reassuring reminder that my lips are protected. The lip balms have pretty good lasting power, and while not as obvious as when I first applied them on my lips, it stayed on my lips for several hours and even after I had breakfast.
One major drawback of these lip balms are that they don't contain any sun protection, although Dermal Therapy do have another product with SPF 50+ for that purpose.
2. The Original Scrub Daddy and the Eraser Daddy 10x
The original Scrub Daddy is a multi-purpose sponge that can be used for cleaning dishes, kitchen counters, household and outdoor furniture, walls, floors, the shower and even your car. If anything, it wins the prize for the most aesthetically pleasing collection of cleaning sponges.
In fact, they look so fun my four-year-old was immediately drawn to them. When I told him they were meant for cleaning dishes, he voluntarily dragged his kitchen helper to the sink, declaring he was going to help me to do the dishes with "the sun" (or Scrub Daddy, the yellow smiley sponge). No, I couldn't believe it either, but here's photographic evidence.
These were the last things he was washing. I didn't have a free hand or was in the state of mind to step back and take a photo when he was scrubbing the breakable items. (Not possessing a dishwasher, we hand wash all our dishes.)
Mr Sun/Scrub Daddy's eyes actually helped make the sponge suitable for little hands and his mouth was perfect for cleaning both sides of the cutlery at once.
The Scrub Daddy obviously wins my four-year-old's approval, and by default, mine as well, for simply enticing my son to do the dishes on his own accord. But what I really like about the Scrub Daddy is that while the sponge material feels really rough on the skin, it's actually what makes it possible to scrub non-stick and stainless steel cookware without scratching.
The sponge does soften up in warm water—and this is where I think it falls down a little, but only if you wash your dishes like I do (which I believe isn't the norm in Australia):
Give dirty dishes a quick rinse
Drop some dishwashing liquid on the sponge
Run sponge over dirty dishes to clean
Rinse soapy water off dishes
Place now-clean dishes on drying rack
It takes a long time for the water in my kitchen to warm up, which means I don't actually get the opportunity to soften up the sponge before using it. However, if you normally fill up your kitchen sink with warm soapy water to do the dishes, it's likely you'll find the Scrub Daddy a very pleasant cleaning experience.
I also put to the test its claim that you can use it without any extra cleaning chemicals and I was extremely impressed. It easily cleaned a porcelain bowl of melted butter and a greasy glass bowl with no problems, although it did struggle on plastic surfaces.
After almost a month of use, the sponge continues to hold its shape and colour, and holds true to its promise of rinsing free of debris and resisting odours. I would suggest avoid cleaning knives with it or you'll end up shaving off bits of yellow from your Scrub Daddy sponge.
At the same time, I love the "Daddy Caddy", a handy holder for the Scrub Daddy sponge that you can stick to the inside of your sink (using suction cups) to ensure your sponge dries thoroughly. (Although I have to admit it does seem to make it look mildly evil.)
Eraser Daddy 10x
The Eraser Daddy 10x is a long-lasting household eraser that you can supposedly use to remove common marks and scuffs from around the house. It's a rather stiff sponge which can be quite difficult to rinse (you're meant to dampen it with warm water to "activate" it) AND has a rough side to first clean the surface before unleashing the erasing power of the foam side.
To be honest, I felt that an ordinary sponge or cleaning cloth could potentially produce the same results as the Eraser Daddy if you were willing to scrub hard enough. However, the benefit of the Eraser Daddy is that you only need to use warm water, and probably half the effort. So for the fact it actually makes my job easier, I give it full points.
I actually enjoyed going about the house looking for scuffs and marks on the walls and using the Eraser Daddy to give it a good wipe. Everything did end up looking a bit brighter and cleaner.
Of course, it's not a miracle worker and it met its match with some rather old Blu Tack residue.
3. Green Pan's non-stick cookware
I've always been a fan of non-stick cookware simply because they're so easy to use (and clean), and you can often get away without using very much oil. However, I've started becoming increasingly wary of non-stick cookware in recent years. Why? Here's a very simple science lesson.
Polytetrafluoroethylene or PTFE, more commonly known as Teflon, is what's usually used to make non-stick cookware today. Prior to 2013 however, non-stick cookware was made using perfluorooctanoic acid (PFOA). PFOA has been linked to a range of health concerns, including kidney disease and low birth weight.
While Teflon today is PFOA-free, its coating on non-stick cookware can still pose health problems (known as Teflon flu) when cookware is exposed to temperatures above 300°C. And you most definitely need to keep an eye out for scratched, peeling or flaking Teflon cookware to avoid ingesting any PTFE flakes.
In a nutshell, Teflon cookware is safe to use under most normal circumstances, but can have several health implications if we're not careful.
Enter GreenPan, a Belgian non-stick cookware brand utilising a ceramic non-stick coating that is free of chemicals including PFOA and PTFE. It's heat resistant up to 450°C and can be used on all stovetops, including induction. What I really liked about GreenPan was just how solid the frypans felt. They were weighty, without being too heavy, and you can tell they are quality products.
I road-tested both the 28-cm Venice Pro frypan and the 24-cm Craft frypan on my electric stovetop using my personal favourite method: Frying sunny-side up eggs without oil. Unlike my Teflon frypan, where the eggs easily slide on the surface, there was actually some "stick" to the GreenPan frypans. There was also a faint brown residue (I find out the reason below) when I transferred the cooked eggs to a plate, which easily came off thanks to Scrub Daddy from above. Perhaps the frypan is meant to be used with minimal oil, not no oil.
Next test involved cooking up some pancakes (on the Venice Pro frypan)—and that was when I discovered the reason for the brown residue when I cooked the eggs. I used oil this time (a bit too much, as you can see).
Unlike the Teflon and stainless steel pans which I'm used to cooking with, I learned the hard way (overly-brown pancakes) that the GreenPan conducts heat faster. According to the company's website, its special non-stick coating "is a great heat conductor. That means you can cook at a lower heat setting and save energy. What's more, your pan will get to temperature quickly and cook your food more evenly".
Should have read that before I cooked! But I did indeed find myself cooking the pancakes at a lower heat setting than I normally would, and they cooked faster than they normally did.
The non-stick surface worked beautifully and it was super-easy to flip the pancakes, once I figured out just how much time I needed to cook each side. The pancakes cooked perfectly and evenly, and maybe it's in my head, but it felt more pleasurable cooking on the GreenPan than on my normal Teflon frypan.
I also cooked some tofu using the Craft frypan, and similarly, with just a hint of oil, it cooked beautifully, evenly (the ones on the edge took the same time to cook!) and much quicker than my other frypans.
The main thing I wasn't a fan of with the frypans were the stainless steel or cast handles (with black titanium PVD coating), which, while great for allowing the cookware to safely go into the oven, weren't that great for prolonged cooking on a stovetop (as you would with pancakes) since they can get quite hot.
However, in saying that, I have been quite impressed with the GreenPan, both with how it cooks but more importantly, its chemical-free credentials. It's hard to tell how long my pans will last before they start showing signs of wear and tear—I only test drove them for a week—but GreenPan promises that its coating is "enhanced with diamonds and lasts even in the face of intense usage and cleaning".
How helpful was this article?
Click on a star to rate it!
0 / 5. 0
Be the first to rate this post!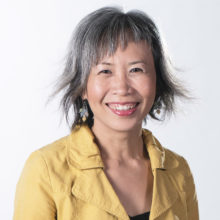 Melody Tan
Melody is project manager of Mums At The Table. She lives in Sydney with her husband and their primary-school-aged son.
Related posts
Subscribe
Receive personalised articles from experts and wellness inspiration weekly!