We've collected the top trends for kids' birthday cakes in 2023 to inspire your creativity and get your mouth watering. If you're looking for a birthday cake idea that has the wow factor and is trending for kids right now, you've come to the right place.
Our vast selection of birthday cake designs includes modern, vintage, Disney cakes, themed cakes, magical, traditional birthday cakes and of course, super-easy cake options that only require simple decorating tricks to make them look fabulous.
Comic/cartoon cake: The best birthday cake for 2023
Source: @sylssweetbakes
Gone are the days when your cake needed to look as realistic as possible. With 2D cakes now being the new favourite, you're going for the opposite style. Comic or cartoon cakes are supposed to look like 2D drawings, similar to the Sunday morning cartoons kids used to watch in the '80s. They are a massive trend for 2023, with almost every cake decorator across the globe posting their examples on social media.
It may look extremely hard, but the trick is to have bold, black, thin lines, made from either rolled fondant or piped icing, fake candles, giant cherries or strawberries, and over-the-top whipped cream. This cake will take some time and a level of skill, but it's worth a try if you think you can DIY.
Here's a tutorial to get you going:
Bluey birthday cake: Still an all-time favourite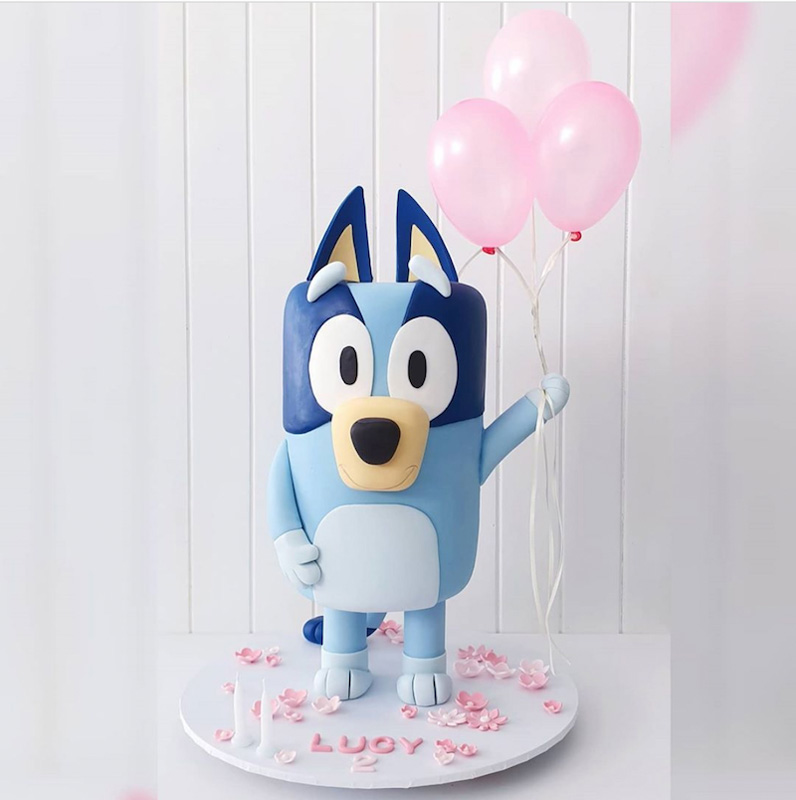 Source: @sweetmamacakes
The popularity of Bluey is beyond the realm of just TV, with kids all over Australia (and even the world) wanting Bluey as their birthday cake. As with all cakes, you can go as extravagant or simple as you like, and for this one, the same rules apply. Bluey can be a figurine on top, the whole cake itself or if you want to go real simple, you just need a cake with blue icing and two triangles on top for the ears. These Bluey cakes are sure to bring out your creative side.
If you need more Bluey cake inspo check out our top 10 Bluey birthday cakes here.
Magical birthday unicorn cake: All the little fairies out there want this one
Source: @perfilbolos
Most little girls go through the unicorn phase, dreaming of riding through rainbows on the back of a pink-and-white unicorn. If you're stressed out about how to make such a cake, we've got you covered. This themed cake requires three main components to make it magical: rainbow sprinkles or colours, gold dust or paint, and a horn for the unicorn's head. Everything else can be as simple or detailed as you want it to be.
Baby shark cake: Doo-doo, doo-doo
Source: @cake.mania
This children's song is so popular that in 2022, it was the very first song on YouTube to reach 10 billion views. Some of us have heard this song so many times we could sing all the verses by heart. So, while you're creating the perfect baby shark cake, warm up those vocal cords for a baby shark party song. You'll impress the kids.
Dinosaur birthday cake: Great for the birthday boy
Source: Flourishing Foodie
The dinosaur-crazy phase happens for most boys where all they can think and dream about are giant reptiles of all shapes, sizes and colours. If your child is going through the dinosaur phase, and has requested a dinosaur-themed cake, we have our favourite ones handy for you.
Winnie the Pooh birthday cake: Another Disney favourite
Source: @sweetmatters.th
Having a Winnie-the-Pooh cake can make for a heartwarming birthday party. The beloved Disney animation series is all about friendship, honey and fun. The cuddly yellow bear is usually the highlight of the cake, however, if your child loves Tigger or Eeyore better, you can always feature them instead.
Choo-choo train cake: The ultimate vintage cake
With Australian Women's Weekly bringing out their much-loved Children's Birthday Cake book for their 40th anniversary, kids are having fun looking at the old-fashioned cakes, while parents are reminiscing about their childhood birthday cakes. The choo-choo train, a boyhood favourite, earned the front cover of the book and is now a trending cake online. You can find the tried and true 40-year-old recipe here.
Princess birthday cake: For a perfect princess party
Source: @sugarandsparrowco
Princess cakes are still as popular as ever, with many little girls choosing their favourite Disney princess as the feature. Currently, the top trending princesses include Elsa and Anna from the fantasy film series Frozen, with Bella from Beauty and the Beast and Ariel the little mermaid, coming in second and third.
Options for princesses and cakes are endless. You could make an underwater experience with a mermaid cake or a winter wonderland with snowflakes. It's all up to your imagination. A simple way to make a stunning princess cake is to go the vintage route and use the Dolly Varden cake recipe from the Australian Women's Weekly's Children's Birthday Cake book.
Rainbow birthday cake
Rainbow cakes are super fun and very easy to make. The eye-popping colours make for an incredible feature to any party and they're often hidden on the inside, making it even more of a surprise. The rainbow cake is so simple, you only need a simple neutral cake mix, a few different food colouring options and a round cake tin. This cake adds a special touch to magical themed birthdays or any birthday parties with a big and bold colour theme.
Which of these kids' birthday cakes will you choose?
There are so many amazing options for creating an impressive homemade birthday cake for your child's birthday party. You can go elaborate, colourful and magical, or keep it traditional like chocolate cake, and just add a little fun touch to make it stand out.
We hope you have fun creating your child's dream cake and a very happy birthday from Mums At The Table.
How helpful was this article?
Click on a star to rate it!
5 / 5. 2
Be the first to rate this post!
Adriana Wales
Adriana is Mums At The Table's part-time digital content creator and writes from Kingscliff, Queensland.
Related posts
Subscribe
Receive personalised articles from experts and wellness inspiration weekly!