Chances are, you've got a child begging to have a Bluey cake for their birthday. It's rather hard to resist the cheeky and lovable Blue Heeler—even parents have fallen for her charms!

So if you're looking for some inspo for your child's upcoming birthday party, scroll down for 10 amazing Bluey birthday cakes made by mums, cake makers and mum/cake makers alike.
1. Balloon-holding Bluey
Just how Sydney cake maker and self-confessed "cake lover" @sweetmamacakes managed to get the balloons to look like they're floating is beyond us. This 50-cm tall Bluey birthday cake will light up the face of any true Bluey fan. It's like having the real Bluey turn up at your birthday . . . and then you get to eat her.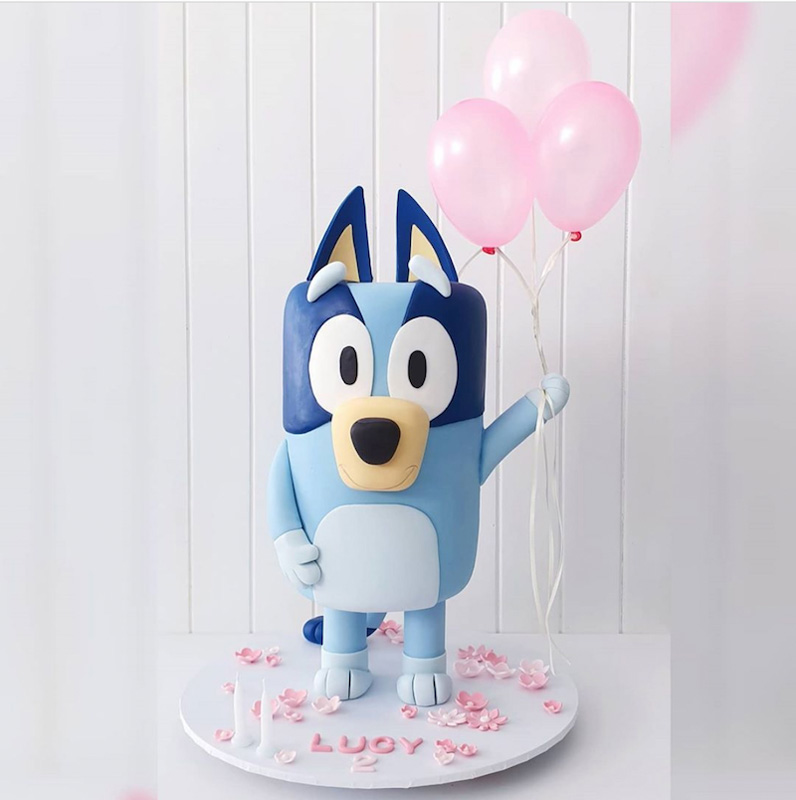 Source: sweetmamacakes/Instagram
2. Swipe your child's Bluey toys
She says she's not a professional, but mum @merrynamy is still a genius cake maker in our eyes. Made for her son Eli's third birthday, the cake is decorated with beautiful premium sprinkles from Geelong-based cake supply shop Picnart Sugar and iced with impressively vibrant "oil-based colouring for bakers and cakers" from Colour Mill. Want to make your own? It could be as simple as getting a supermarket cake, blue food colouring, edible cake confetti and decorations, and borrowing your child's favourite Bluey (and Bingo) figurines.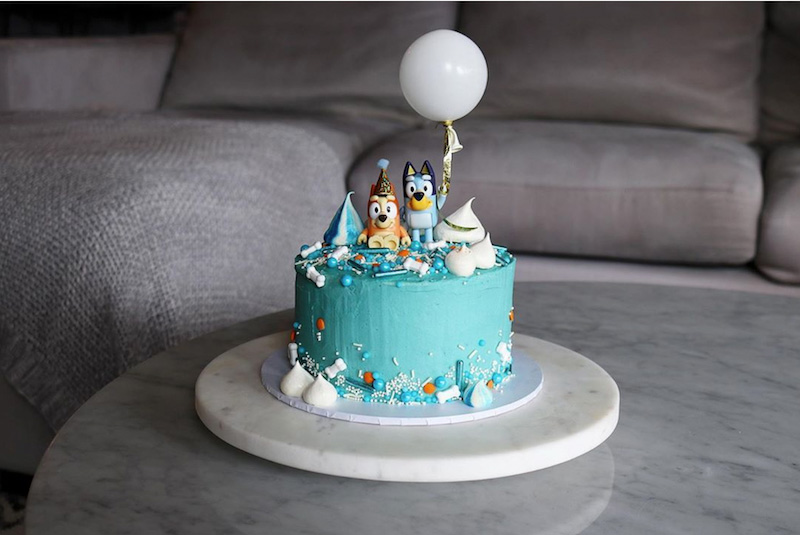 Source: merrynamy/Instagram
3. When Bluey meets Peppa
Sorry Bluey, the reality is that you're probably not a child's only favourite cartoon character. This Bluey-Peppa birthday cake combo by @cakeparfait_ is sure to please any child who can't make up their mind (read: practically all children). Topped and wrapped with cardboard cartoon printouts, it's something you may be able to attempt at home with relative ease.
Source: cakeparfait_/Instagram
4. Behind the scenes Bluey cake
Cake maker @teresa.ward23 shows us just how much planning is needed to make a Bluey cake. "At first I thought it was going to be Trifficult to make a flat 2D image into a life-size 3D, gravity-defying cake but I think we could fool a big blue baboon and a granny or two," she writes in her Instagram post. We, on the other hand, think she's pretty impressive (and the cake too)!
Source: teresa.ward23/Instagram
5. Bluey birthday cake tower with the whole gang
The bright double cake layers, the cute little apple tree, the gorgeous rainbow at the top and the entire Bluey gang . . . what more can a Bluey-obsessed child ask for in a birthday cake? We're thinking five-year-old Elise, who @myconfettikitchen made the cake for, would be super impressed.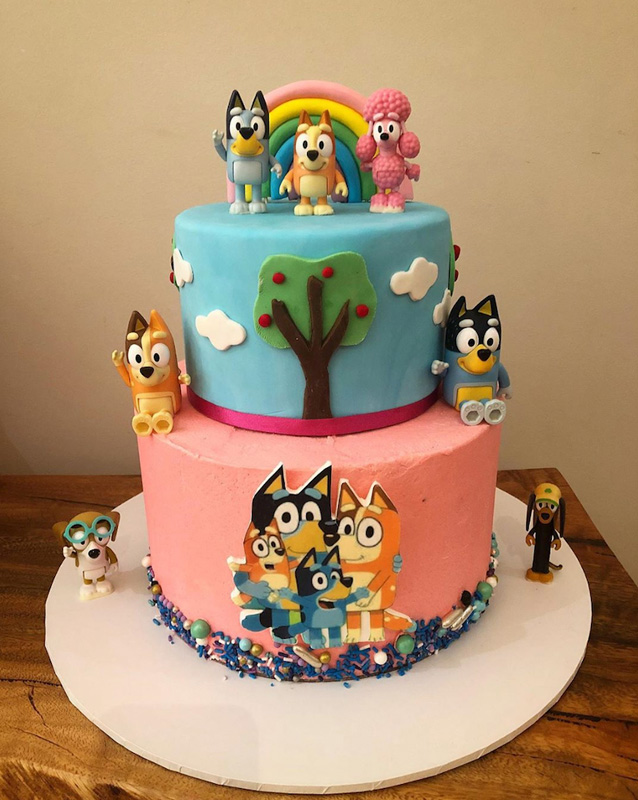 Source: myconfettikitchen/Instagram
6. Just Bluey's face
We like how Melbourne mum @sophie.linnet tackled her Bluey cake: blue icing, and blue, white, cream and black fondant all cut to the right shapes and sizes. The end result? Bluey's adorable face staring right back at you.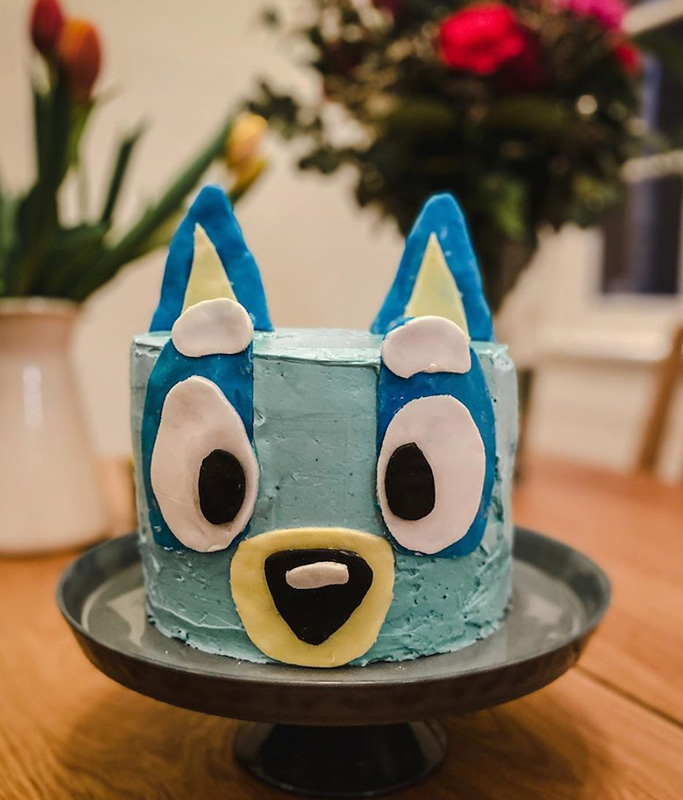 Source: @sophie.linnet/Instagram
7. Number it
This is a Bluey cake with a difference by Gold Coast mum cake maker @deni_bakes. Using the age of the child as the shape of the cake, it's then topped with beautiful macarons, custom-made cookies, premium sprinkles and the highlight of the cake: Edible prints of Bluey and her friends.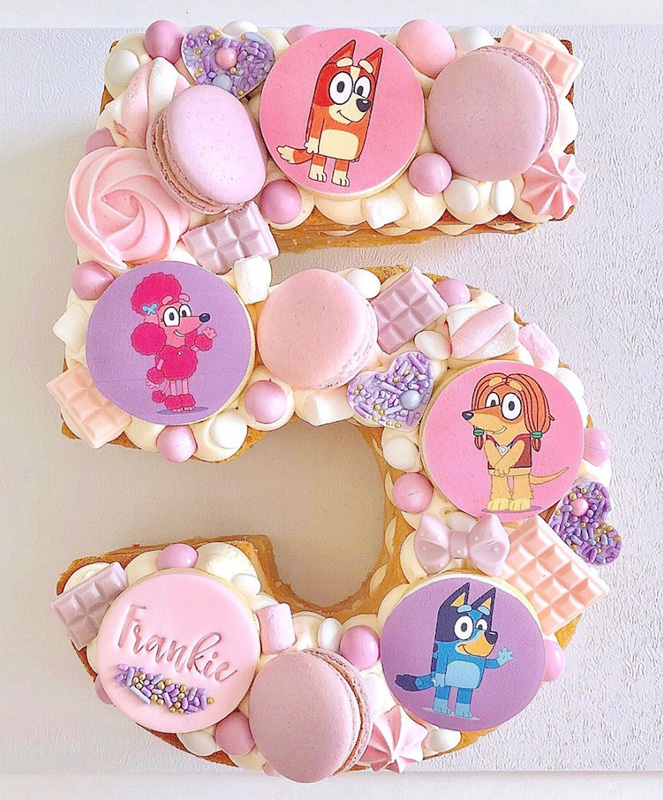 Source: @deni_bakes/Instagram
8. Straws and sprinkles
Not all Bluey cakes have to take the form of the lovable Blue Heeler. Take this one by @lizzies.little.cake.co, who transformed a traditional round cake into one featuring the world famous canine family with the help of some printouts and straws. The beautiful sprinkles give the cake an extra luxe touch.
Source: @lizzies.little.cake.co/Instagram
9. Buttercream Bluey birthday cake
If you're not a fan of fondant or icing, you may want to try this Bluey cake instead, by cake- and macaron-maker @marleesmorishmorsels. This is a vanilla butter cake with layers of raspberry coulis and piped with vanilla buttercream.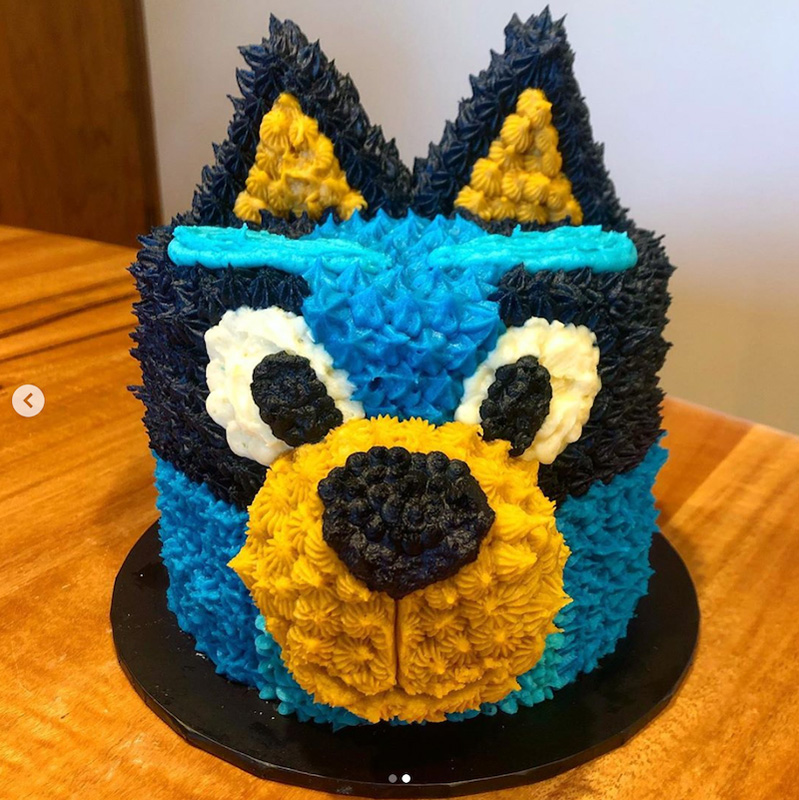 Source: @marleesmorishmorsels/Instagram
10. Stand up tall, Bluey
This "flavoured strawberry on strawberry on strawberry" cake was made by Sunshine Coast mother-of-three @mummamadeit for her five-year-old. Featuring buttercream stripes which were "relatively easy and make such a statement", it stands out even more with the handmade Bluey cake topper made from fondant.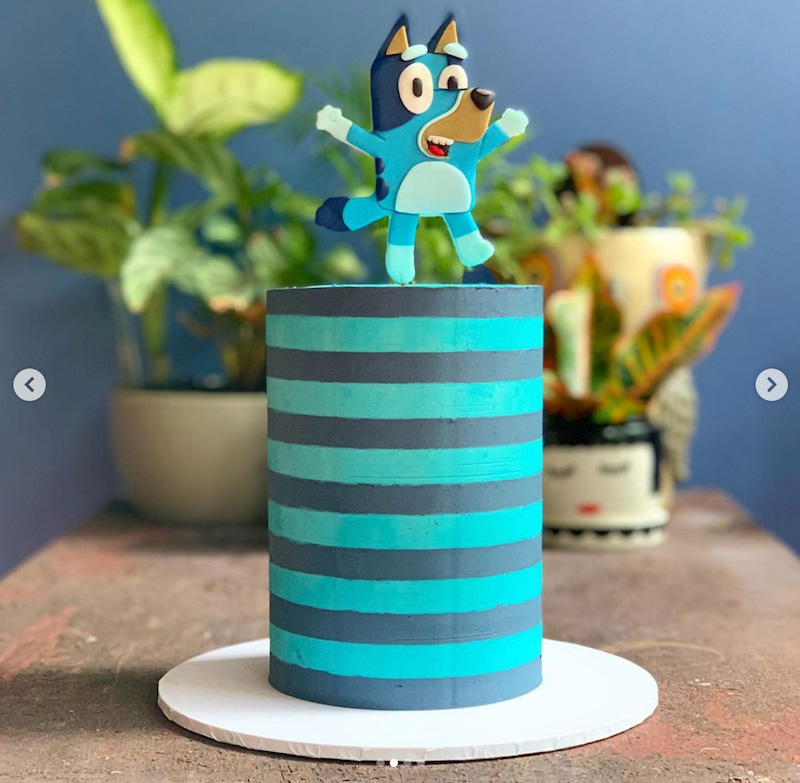 Source: @mummamadeit/Instagram
How helpful was this article?
Click on a star to rate it!
3.6 / 5. 33
Be the first to rate this post!
Mums At The Table
We're about real women having real conversations about real issues. From motherhood stories to expert advice and healthy recipes, we've got your back.
Related posts
Subscribe
Receive personalised articles from experts and wellness inspiration weekly!