Stuck for ideas for Christmas gifts for your child's teachers and don't want to spend too much? You'll love these four super-easy ideas. 
1. Handmade Christmas tree decorations

This was a lovely gift idea shared by Ange Boshier from our Mums At The Table Facebook group.
"We made decorations for the trees [as presents for my daughter's daycare teachers]," she said. "[My two-year-old daughter] helped me to make the decorations from scratch and then painted them individually for each educator in her room and painted the hearts each of their favourite colours."
Ange has very kindly shared her recipe for anybody interested in making their own:
Ingredients
2 cups flour
1 cup salt
¾ cup water
Method
Mix ingredients together so that it has the same consistency as play-dough.
Use cookie cutters (or whatever moulds you wish) and cut shapes out.
Use something like a pencil to stick through the top to make a hole to thread string through.
Put them in the oven at 150°C for three hours so that they set hard.
Once they have cooled down, decorate however you wish (acrylic paints usually work best).
2. Experiences
Anita Vandyke writes about motherhood, zero waste living and minimalism on Instagram and recently released the book, A Zero Waste Family in Thirty Days.
"Gift an experience such as movie vouchers," she suggests. Another option is to pool resources with a few parents and to get everyone to contribute to a restaurant voucher.
3. Homemade beauty scrubs
Nothing spells pamper better than a homemade body scrub and they are super-easy to make. To make the gift even more environmentally friendly, Anita suggests storing them in an upcycled jar and decorating with some secondhand ribbon.
4. Plants
Source: Reddit
Succulents are hardy and relatively easy to keep alive. They also make great teacher gifts, especially when paired with a sign that says, "Thanks for helping me grow." Feel free to use other potted plants if succulents aren't your thing.
A note about gift wrapping
Wrapping paper made from 100 per cent paper can be recycled, even if it has sticky tape attached, but why buy gift wrapping paper just to have it thrown away?
Some types of gift wrap such as tissue paper can't even be recycled (their fibres are too short to be used again). Plastic cellophane, metallic wrapping or paper with glitter or foil detail can't be recycled either and will end up in landfill.
Anita has some green wrapping ideas:
Wrap things with a secondhand scarf, tea towel or cloth napkin.
Upcycle a paper bag by redecorating with some ribbon.
Adding a vintage brooch, ribbon or string makes a beautiful added detail.
Add cuttings from your garden.
---
Anita Vandyke's new book, A Zero Waste Family, published by Penguin Random House is out now, $19.99.
How helpful was this article?
Click on a star to rate it!
5 / 5. 1
Be the first to rate this post!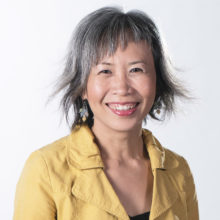 Melody Tan
Melody is project manager of Mums At The Table. She lives in Sydney with her husband and their primary-school-aged son.
Related posts
Subscribe
Receive personalised articles from experts and wellness inspiration weekly!