Coeliacs and vegans both rejoice. These pancakes are so good, you'll find it hard to believe they're both dairy- and gluten-free!

Pancakes are a Sunday-morning breakfast staple, and this recipe provides a healthy and dairy-free alternative. This gluten free pancake mix uses banana to replace eggs, and almond and rice flour instead of regular flour. With this recipe, yummy and fluffy gluten-free pancakes are sure to be a breakfast staple in your home soon!
Preparation Time: 10 Minutes
Cooking Time: 10 Minutes
Serves: 3
Ingredients
1 chia seed egg
¾ cup milk
½ tsp vanilla extract
¾ cup rice flour
¼ cup almond flour
2 tsp coconut sugar
¼ tsp salt
2 tsp baking powder
1 banana, roughly mashed
Method
Make chia seed egg (see our November 2017 issue or go to thetabletv.com for recipe).
Mix chia seed egg, milk and vanilla extract in a bowl.
In a separate bowl, mix rice and almond flour, coconut sugar, salt and baking powder.
Combine ingredients from both bowls and mix well.
Mix in mashed banana, being careful not to over-mash it.
Pour ¼ cup of batter onto a hot non-stick pan, shaping it into a pancake. Cook on medium to low heat for about 2 minutes, or until golden-brown.
Use a spatula to slowly unstick the sides and centre before flipping the pancake. Cook for another minute or until golden-brown. Serve with fresh fruit and a drizzle of maple syrup.
*Do not make more than double the recipe at a time as it does not work well.
How helpful was this article?
Click on a star to rate it!
0 / 5. 0
Be the first to rate this post!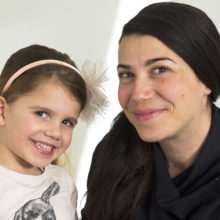 Gia Kavanagh
Gia runs her own catering business and is a community health presenter. She is often whipping up healthy, plant-based meals in the kitchen with her two sous-chefs (and children), Olive and Moses.
Related posts
Subscribe
Receive personalised articles from experts and wellness inspiration weekly!