Cowering in the darkness of her home, she tried to block out the noise from the persistent popping of gunshots, far enough away not to be of immediate concern, but close enough to cause her family to be wary. It was just another typical evening in Jacqui Joseph's childhood—the silver lining was that it wasn't her village the raskols (criminal gangs) were terrorising that night.

Jacqui grew up in Bougainville, Papua New Guinea, during the region's devastating 10-year civil war. What started in 1988 as violence between local Bougainvilleans and migrant workers at the largest open cut mine in the world, ended as the greatest conflict in Oceania since World War II, with an estimated 15,000 to 20,000 Bougainvilleans dead.
Listening to gunshots, seeing people who were injured and witnessing violence on a daily basis was an inescapable part of her young life—and as it turned out, would shape the rest of it.
"[Observing violence] made me think it was not OK and I should do something to prevent anything like that from happening," says Jacqui. "I was taught some really good principles and values at an early age. I especially remember attending [church] and having some really great teachers. Having parents who reinforced these values also had a big role in shaping my perception of life."
That "something" turned out to be Equal Playing Field (EPF), a not-for-profit organisation that primarily works in schools to prevent violence against women through promoting gender equality. Such is the success of the program, Jacqui has won a bevvy of awards since co-founding EPF in 2013 (with Australian community and international development specialist, Adam Everill), including a 2016 Westpac Outstanding Women Award (Young Achievers category) and the 2017 Commonwealth Pacific Young Person of the Year.
"Equal Playing Field is founded on the belief that violence against women is preventable," says Jacqui. "Open and honest discussions about respectful relationships and gender equality during adolescence have the power to change attitudes that allow gender violence to occur."
Global estimates by the World Health Organization indicate that about one in three women worldwide have experienced either physical and/or sexual intimate partner violence or non-partner sexual violence in their lifetime. Gender violence in Papua New Guinea, however, is a far more widespread problem. According to The Guardian, reports have estimated that 60 per cent of men had participated in gang rape at least once, while in certain Highland provinces the rate of violence against women was 100 per cent. Every. Single. Woman.
When I asked Jacqui if she knew of anybody who has been a victim of violence, she struggled for an answer, not because she couldn't think of one, but because "almost everybody I know has been a victim of violence".
Jacqui and her family moved to Port Moresby in 1994, where she is still living today. It was while studying for her political science degree at the University of Papua New Guinea that Jacqui decided she wasn't going to go down the traditional path of a nine-to-five office job after graduating.
She worked for a number of years with the Asian Development Bank and pursued her interest in community work, running workshops and training as a youth entrepreneur.
A chance meeting with Adam led to the formation of EPF, a schools-based sports development program. Jacqui, who admits to not being into sports prior to the founding of EPF, has successfully integrated sporting concepts and terminology into EPF's programs to explain the importance of respectful relationships to young people.
"I believe attitudes that allow for violence against women come down to gender inequality, where there are unequal rights between men and women," she says. "We believe that working with adolescents, teaching them ways to respect each other through sports, [will help] to prevent attitudes that allow for violence against women to occur."
EPF's largest program, Equal Playing Field for Schools, is an eight-week program that mainly runs in government schools in the country. For almost two hours a week, EPF staff and volunteers educate students aged between 12 and 15 on how to have healthy, safe and respectful relationships, and that men and women are equal, all delivered with the help of sports comparisons, such as the characteristics of a good sporting team and how to identify boundaries.
"It's also about letting them know they have a support network and people they can get help from and getting young people to challenge social norms that allow violence against women to occur," says Jacqui. "We are challenging the views of masculinity that society portrays for young boys, that masculinity can be [portrayed] in a way that respects women."
Jacqui firmly believes culture is the main driving force for (or against) gender equality. Gender violence, Jacqui says, has been allowed to grow to epidemic proportions in Papua New Guinea because "people have not been doing anything about it, people have just been ignorant about it or people have said, 'That's a cultural thing or family matter.' A lot of silence has been there that has been allowed to grow."
In speaking up against the issue, Jacqui, through EPF, has worked with more than 3000 young people in Papua New Guinea. Her marker for success is the 83 per cent of students who have committed to making a change in their communities and schools to address gender equality issues.
"These programs have fostered frank and open discussions and proven to be an effective model of working with young people to prevent violence against women and children," Jacqui says. "But more importantly, we have seen how the attitudes and behaviours that allow violence against women and girls to occur, have been changing and contributing to the building of stronger, safer, happier communities in Papua New Guinea. For the first time, I am seeing children at an early age begin to question and challenge social norms on the value of women. For the first time, I see an emphasis on respect in relationships.
"There is a gentle wave of change when it comes to gender violence, but we are probably still a long way off from a lasting solution." As Jacqui admits, there is more help available to victims of violence, which while is good news, also indicates that "more and more people are becoming affected, [which is why] the number and the different types of services that are available are growing as well".
In a country where women have to fight doubly hard for gender equality, Jacqui is trying to change the very fabric of society.
"Gender equality questions the values and expectations of a society and this is challenging because this may be deemed as breaking the foundation of what a society is built on," she says, a sense of determination in her voice.
But it's a fight she's not prepared to give up and one in which she believes we can all be a part of. "Everyday people are change agents. Every act and decision made in the way a young woman is treated adds to preventing gender-based violence. If love can be seen as a principle, and be applied to everything, I believe we can see some great changes."
---
If you have experienced sexual assault, domestic or family violence, contact 1800RESPECT (Australia) | It's Not OK (New Zealand)
How helpful was this article?
Click on a star to rate it!
0 / 5. 0
Be the first to rate this post!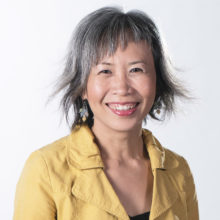 Melody Tan
Melody is project manager of Mums At The Table. She lives in Sydney with her husband and their primary-school-aged son.
Related posts
Subscribe
Receive personalised articles from experts and wellness inspiration weekly!