Last week, schools and social media safety experts around the world started warning parents and children to avoid using TikTok, to avoid accidentally viewing a video that shows an American man taking his own life.

Ronnie McNutt, a US Army veteran, took his own life on the night of August 31 while streaming live on Facebook from his home in New Albany, Mississippi.
On September 10, a Facebook spokesperson confirmed with online fact-checking organisation, Snopes, that the original video was up for two hours and 41 minutes before Facebook removed it. During this time, the video was copied and posted to several social media platforms, including TikTok, which is highly popular with teens and young adults under 24. On TikTok, it appeared on the "For You" algorithm-driven recommendations feeds, which allows viewers to passively watch videos on autoplay. Most alarmingly, it has been embedded within other videos designed to appeal to children.
Australian Prime Minister Scott Morrison has condemned the video and called on TikTok to put additional safeguards in place to ensure the removal of violent content. "No child should be ­exposed to horrifying content like this and platforms like TikTok need to put in more ­resources to detect and tear down this sort of harmful content," he said.
How to talk to your children about suicide
"Kids will get a shock when they see something unexpected such as the TikTok suicide video," says Collett Smart, Mums At The Table's resident psychologist. "Such scenes are impossible to unsee."
Collett warns parents to recognise that the video can be a big trigger for a lot of people and to be extra careful about how they should speak about it, even with teens. If in doubt, parents should always get in touch with professional help, such as Kids Helpline (Australia), Beyond Blue (Australia) or Youthline (New Zealand).
"For older kids, teach them how to report distressing content as well, by reporting it to the platform they see it on," Collett says. "They (or you) can also go to esafety.gov.au and report it there as harmful or illegal content." [New Zealand parents can go to Keep It Real Online.]
"Most importantly, seek professional help," Collett emphasises.
However, if you're not sure whether your child has actually seen the video, Collett says not to bring up the issue directly. "Ask them indirectly if they've seen any upsetting content online or if someone has shown them upsetting content. Try not draw attention to it so as not to create curiosity—and then wanting to go and find it."
Keeping children safe online
The sad reality is that Ronnie McNutt's suicide video isn't the first of its type to go viral on social media, the most infamous of which was the livestream of the Christchurch mosque shootings last year by the perpetrator.
Earlier this year, TikTok took three hours before removing the video of the apparent suicide of a 19-year-old.
In 2017, a horrific video of a 12-year-old girl taking her own life was streamed and then shared on several social media platforms and websites.
All of this, on top of seemingly harmless videos aimed at children, with spliced-in clips encouraging self-harm.
"In general, parents need to delay access to social media platforms for younger children," says Collett. "Remember, children under 16 should not be on TikTok anyway and most other social media platforms require users to be at least 13 years old."
Collett also advises parents to:
Keep talking and reminding children they can come to you about anything—do this early and often
Keep devices in communal areas and out of bedrooms
Keep an eye on those who are more vulnerable and at-risk, and check in with them about their interactions on and offline. Help them build their digital resilience and let them know they can come to you for help if they see graphic or distressing content online in general
The Australian Government's eSafety Commissioner also recommends tips for making sure children are safe online
---
If you or someone you know needs help, contact:
Lifeline: 13 11 14 Australia | 0800 54 33 54 New Zealand
How helpful was this article?
Click on a star to rate it!
1 / 5. 3
Be the first to rate this post!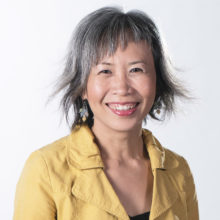 Melody Tan
Melody is project manager of Mums At The Table. She lives in Sydney with her husband and their primary-school-aged son.
Related posts
Subscribe
Receive personalised articles from experts and wellness inspiration weekly!