Swap out the traditional bread slices for sweet potato toast. Sweet potato is naturally gluten free, high in fibre and a great source of vitamin A 🍠

You can cook your sweet potato in the toaster or oven (we show you how to make sweet potato toast in the oven), but keep in mind thicker slices may require more cooking time. Whether you're looking for sweet or savoury sweet potato toast toppings, we've got you covered with these four delicious options:
1. With avocado, red cabbage sauerkraut & sesame seeds
2. With nut butter & strawberries
3. With cashew cheese
4. With nut butter, banana and honey
Try this sweet potato toast recipe for breakfast tomorrow!
Preparation Time: 5 Minutes
Cooking Time: 15 Minutes
Serves: 6
Ingredients
Suggested toppings
Almond butter, sliced banana, honey topped with crushed walnuts, cashew cheese, sliced avocado, beetroot, sauerkraut sprinkled with black and white sesame seeds
Method
Preheat the oven to 180oC and line a baking tray with baking paper.

Slice off the ends of the sweet potato, then cut it lengthwise into 1-cm slices. Arrange slices in a single layer on the baking tray.

Place in oven and bake for about 15 minutes or until the slices are tender and easily pierced with a fork. Serve warm with your favourite toppings.

Store leftover sweet potato slices in an airtight container in the fridge for up to a week. Place slices in a toaster to reheat for an easy breakfast.
How helpful was this article?
Click on a star to rate it!
5 / 5. 1
Be the first to rate this post!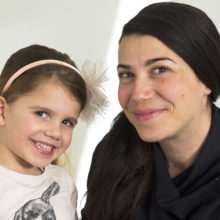 Gia Kavanagh
Gia runs her own catering business and is a community health presenter. She is often whipping up healthy, plant-based meals in the kitchen with her two sous-chefs (and children), Olive and Moses.
Related posts
Subscribe
Receive personalised articles from experts and wellness inspiration weekly!