We show you how you can cook a cheap family meal that still meets all the dietary needs for children. Plus we have 5 recipes you can try!

Household budgets are currently struggling thanks to rising costs of living brought about by war, natural disasters and a global pandemic. We've all experienced how our weekly grocery shop is getting more expensive. Either that or we end up with far less food than expected for our budget.
While we know our kids need healthy, nutritious food to grow up happy and strong, the increased cost to our weekly food shop is not doing us any favours. In fact, current estimates suggest that only five per cent of Australian children are consuming the recommended serves of vegetables each day.
How can we cook the entire family—and especially the kids—a healthy dinner when we're buying less for more? We'll show you how with some of our best healthy dinner ideas from our website.
Dietary needs for children
Children need a balanced, varied diet with food (of different amounts) from the five major food groups. This means providing them with:
Plenty of fruit and vegetables
Wholegrains
Nuts and seeds (in age appropriate forms)
Legumes
Lean meat or plant-based protein
Dairy or alternatives
Watch this super cute video with your child of dietitian Amanda Muhl and her daughter talk about healthy eating.
(You can find a better resolution of the video in our Mums At The Table Facebook group.)
Planning a delicious meal that's also nutritious can weigh a lot on every mum's mind (hello, mum guilt). Ensuring there's a perfect balance for everything can make things feel even more stressful, especially if picky eaters are involved.
"Remember that our job is to offer the food and make the food available. Our child's job is to choose what they will eat from the selection and how much," says Skye Swaney, a paediatric dietitian.
"[Eating the] rainbow and variety is important because each of those colours represent different vitamins and minerals, which will offer different benefits, such as immune function or reducing risks for chronic diseases. But you don't have to make it too complicated. You don't have to include every colour every night. Just try to have at least 3–4 different colours across the day, which can be fruit or vegetables."
Still unsure how much that looks like? Dietitian Amanda shows us how much fruit & vegetables is best per day.
How do I know if my child has a vitamin deficiency?
Observe your child and ask yourself these questions:
Do they have plenty of energy (so they're not sleeping or feeling tired all the time)?
Are they happy?
Do they look well (and not pale)?
Are they generally well and healthy?
If you've answered yes to the above questions, there's a high chance your child is getting the nutrients they need.
It's important to remember that young children tend to fall sick a lot as they're still building up their immunity. "Some kids are just a bit more susceptible to viruses," says Skye. "But are they getting sick more often than we think they should or more than their friends seem to be?"
Skye is also quick to reassure parents that "most of the time, if we offer a balanced diet and our child is otherwise well, they will get the nutrients they need—even if we think they've hardly eaten anything or just graze all the time".
3 ways to create affordable meals for the family
Here are Skye's top three tips for feeding the family a healthy meal for less.
1. Buying—and eating—seasonally
This tip is not as complicated as it may sound. "What's in season will be at the front of the supermarket in large amounts," says Skye. "It's usually on special and looks fresh."
If you have the extra budget, Skye also suggests buying extra of what's in season to freeze. You could even cook a big batch for the freezer, ready to defrost and serve on busy weeknights when you need an easy dinner.
2. Embrace frozen and tinned food
We tend to think fresh foods are better for us but according to Skye, "In some cases, frozen vegetables can be more nutritious than fresh because they've been picked and snapped frozen." This is in comparison to fresh produce, which may be sitting around for quite a while before they're bought and eaten.
Frozen food also hasn't been as impacted by the recent price hikes so can be more affordable.
"I love frozen peas," Skye, who is an ambassador for Go! Kidz meal delivery service for kids, says. "They're always popular with the kids, they taste good and are always cheap."
Tinned chickpeas also regularly feature on Skye's shopping list. "Chickpeas are actually a vegetable," Skye reveals. "So the kids are eating more veggies when served as hummus with cucumber or carrot sticks. It's so versatile. You can add them to salads, curries and stews."
Skye warns that tinned legumes can be slightly higher in salt, so be sure to rinse them before cooking. Legumes are also good for adding bulk (and nutrients) to a dish. As a plant-based protein source, it's also cheaper than cooking meat.
3. Meal plan
Whether it's a weekly meal plan or one for just a few days, choosing and deciding on a few healthy dinner recipes beforehand not only saves you time and money, it ensures you get the variety you need for optimal nutrition.
You could even plan your meals around what you know is on special in the supermarkets that week, bringing down your total spend.
"Meal planning prevents last minute dashes to the supermarket where you may end up buying more expensive food, or you end up home late and buying takeaway instead," says Skye.
5 budget friendly recipes
Now that you know what you need to do to ensure your kids get the nutrients they need and how to feed your family for less, let's take a look at five of our favourite cheap healthy dinner recipes.
Meal plan with these recipes to help your dollar stretch further every week.
1. Butter chickpea curry
This vegan recipe takes just 20 minutes to cook and uses chickpeas instead of chicken so you still get protein but at a much lower cost. Serve with brown rice for added fibre.
2. Meatless (lentil) sloppy joe
Traditionally an American burger served with ground beef, onions, tomato sauce and Worcestershire sauce. Our vegetarian version is made with fresh and healthy simple ingredients and is ready in under 30 minutes. Skip the sour cream and top with coconut yoghurt for a vegan version.
3. Sweet potato salad
This vibrant and hearty salad has chopped tomatoes, black beans, fresh coriander, red onion, creamy avocado and more. If that isn't eating a rainbow, we don't know what is.
4. Green pea mingle
Add more veggies into your children's lives while using a freezer favourite with this recipe. It's green, it's healthy and we think even your kids will find it super delicious.
5. Creamy corn soup
You can just as easily use frozen corn for this wholesome warming soup as you can fresh corn. Serve with bread for a simple yet nutritious meal featuring a few basic ingredients.
Cheap healthy meals for family is possible
Are you ready to ease the strain of your weekly grocery shop? Giving our children the nutrients they need doesn't have to be expensive if we learn to shop seasonally, embrace frozen and tinned food, and meal plan.
How helpful was this article?
Click on a star to rate it!
4.7 / 5. 3
Be the first to rate this post!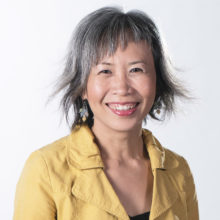 Melody Tan
Melody is project manager of Mums At The Table. She lives in Sydney with her husband and their primary-school-aged son.
Related posts
Subscribe
Receive personalised articles from experts and wellness inspiration weekly!